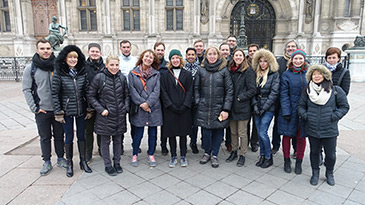 Paris, France, 22.-24.11.2018
MOVEment spaces project final meeting
Development of urban spaces and facilities for physical activity
MOVEment in urban spaces is a research & development project in the Erasmus+ Program, Collaborative Partnerships, Not-for-profit European sport events, which started in 2017. The overall objective is to encourage participation in sport and physical activity, especially by supporting the implementation of the EU Physical Activity Guidelines. Main project objective is to enhance innovation in the delivery of physical activity programs in existing urban spaces/facilities. IASLIM Expert Group have developed Standards of sport and leisure infrastructure as a tool for:
effective planning of the social and economic development of cities and regions,
sustainable development of physical culture, promotion of healthy lifestyle, innovative programs, "green and low energy" sport and leisure infrastructure,
efficient preparation and implementation of investment projects and
improvement and development of management in sport and leisure centers. Standards have become a tool for designers, investors, mayors of the cities and managers in the sports industry.