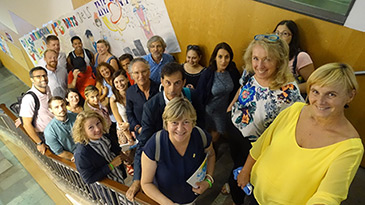 Barcelona, Spain, 22.-24.9.2018
MOVEment spaces Project meeting
Sport and physical activity in the public spaces in Barcelona
European Commission has designed the Erasmus+ Program, Collaborative Partnerships, Not-for-profit European sport events, to encourage participation in sport and physical activity, especially by supporting the implementation of the EU Physical Activity Guidelines. The MOVEment spaces project meeting in Barcelona displayed to partners the sport and physical activity in the public spaces in the city. The Municipality officials and UBAE managers have introduced the Play plan in public spaces "Barcelona Playable" that present and analyse sports habits, typology of spaces, interesting projects as Superblocks and maritime itineraries. Barcelona Sports Institute presented main aspects and inspirational experience of the "Fiesta del fitness" and partnership between the city and other stakeholders. IASLIM experts have participated in discussions and designing of innovative programs and spaces for physical activity of all people in the city, such as:
Nordic walking activity in the city and at the Barcelona beach,
fitness events and venues,
street activities and
aquatic sports.