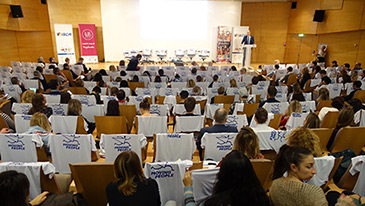 Paris, France, 23.11.2018
MOVING People - MOVING Europe Conference
Efficient investments and management of sport and leisure infrastructur for Health Enhancing Physical Activity
The Conference follow the main objectives:
presentation of grassroots sport that fits to the WHO Global Action Plan for Physical Activity,
the implementation of the EU Physical Activity Guidelines and to the promotion of the concept of Health Enhancing Physical Activity (HEPA),
finding solutions for gender inequality in grassroots sport, by providing an open access training resource for sports organisers and deliverers,
innovative approaches for developing MOVEment spaces and build capacity through interactive methodologies.
IASLIM experts participated at the conference together with EU Erasmus+ from 32 different countries and 80 different organisations. IASLIM Expet Group developed Standards of sport and leisure infrastructure in the fields of:
the natural environment development,
the physical activity for the health of people,
urban planning,
investments and
management of sport centers.